Healthcare professionals often experience burnout in their field due to long hours, high levels of stress, and limited opportunities. One way to utilize their expertise while addressing these concerns is to transition into roles at healthcare staffing companies as recruiters or client managers. These positions involve assisting travel healthcare workers in finding their next assignments and establishing contracts with clients. By making this shift, healthcare professionals can continue to make a positive impact in the industry while fulfilling their professional goals. To gain insight into this career change and its benefits, we spoke with two healthcare workers who are now corporate employees at Uniti Med.
Meet Megan Johnson Who Turned to Healthcare Staffing as a New Career
Megan Johnson BSN, RN has worked at Uniti Med as a recruiter for over 6 months. We spoke to her recently to find out more about her "why" for changing.  
How did you decide that you wanted to leave your healthcare job? 
I initially left my healthcare job because I wanted a new challenge. I needed more flexibility and opportunities to grow professionally. I wanted to be part of a great organization that values their employees.   
How did you know that travel healthcare recruiting was an option for you?  
I had worked with travelers in the past and I never took the opportunity to travel before I started my family. I felt that where I was at, at this point in my life with my family, that traveling was not a good option for us. The next best thing to traveling is to partner with other nurses to learn their "why," get to know them, help them earn a higher salary, and be their resource with any questions or concerns. I have medical knowledge and my background helps me relate to my travelers and treat them as a teammate. We are working together and for each other; it's a partnership.  
What advice do you have for other healthcare workers who are thinking about joining a recruiting or client manager team? 
I would tell others looking to join the healthcare staffing world that it is a rewarding and challenging career path. If they have determination, organization, communication skills, and a positive attitude they will excel.  
How did you pick Uniti Med?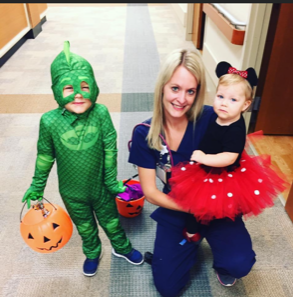 I chose Uniti Med over other companies because of the way I felt when I walked through the doors. I could feel the culture without even knowing much about the company and their values. I felt welcomed, relaxed, and valued. Every person I met smiled, greeted me, and treated me like I was on their team. The company offers flexibility and opportunities for career advancement. The leadership team is inspiring, encouraging, and compassionate. You are not just a "number." They do not treat their travelers or their corporate employees that way.  
What has been the easiest part and the hardest part about your new position? 
The easiest part of this position is relating to the travelers, understanding their background and modalities, and matching them to the best position for them to excel. I would say the hardest part is learning how to open travelers up to locations outside of their preferred area. During certain times of the year there are a limited number of jobs available which has been difficult as well. However, that's why it's so important to really know your travelers and explain to them why certain locations that may look undesirable to them may still be a great steppingstone for their career. 
What do you like best about working in the travel healthcare recruiting field? 
Connecting with my travelers and finding assignments they will enjoy that will allow them to earn a high income and the opportunity to see the country. Everyone travels for a different reason and getting to know their "why" is the best part.  
Meet Katie Ehlers Who Switched from the Nursing Home World to Try Healthcare Staffing
We also spoke to Katie Ehlers LNHA, a Long-Term Care Client Manager that has worked at Uniti Med for over 7 months. Here is what she had to say about making the change.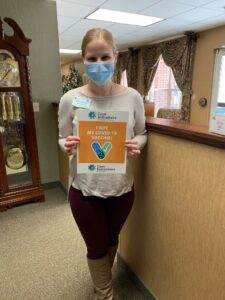 How did you decide that you wanted to leave your healthcare job? 
I was ready for a new challenge but wanted to continue to work in the healthcare related field that allowed me to use my medical background.  
What did you know about client management when you were thinking about leaving your healthcare job? 
I knew the basics; I knew what it was like from a facility standpoint to work with staffing agencies. I was familiar with contracts, per diem vs. contracted, job needs, managing relationships with the agency and the healthcare workers.  
How did you know that recruiting/client managing was an option for you?  
I read about the position on LinkedIn and based on the qualifications and job description, I knew the job of being a client manager was a great option for me. It was a new challenge that complimented my background, so I decided to go for it. 
When it came down to it, how did you know that recruiting/client management was the right choice for you?  
I knew it was the right choice when I stepped into the office for the first time. The environment and culture at Uniti Med are something I had never experienced. There was a sense of calm in the office and that feeling was not present in my last work environment. Everyone was genuinely happy and welcoming. You could tell the people working there enjoyed being at work. Touring the office and learning about all the perks was eye opening! A chef for breakfast every morning, lunch during the week and snacks provided throughout the day were new to me! The office also had activities to help reduce stress, and a gym to improve health and productivity. They also celebrate the wins as a team and the entire office. I knew after my visit, I wanted to be a part of the Uniti team!  
What advice do you have for other healthcare workers who are thinking about joining a recruiting or client manager team? 
Listen to your gut! If you are ready for a rewarding, challenging, and fun career, this could be the right choice for you. If you want more flexible hours, and the opportunity to work with others within your medical background then this can easily be the next step for you. You do need to like talking to people and helping them solve their staffing issues.  
How did you pick Uniti Med? 
After receiving a tour of the office and speaking with Chris Sund, COO and Kelsey Leland, Director of LTC, I knew Uniti Med would be a great fit.  
What has been the easiest part and the hardest part about your new position? 
The easiest part is understanding the healthcare lingo and relating to the clients I work with. I even get to help my co-workers on the healthcare lingo! I know what it's like to be in the client's shoes so that is very helpful and refreshing to them. The hardest part is wanting to see quick results when the job takes patience and perfect timing. I'm working on new contracts all the time with clients, and it takes time to create a relationship, understand their needs and create the contracts. 
What do you like best about working in the travel healthcare client manager field? 
The relationships I get to build with co-workers and the clients is my favorite part. I enjoy the challenges each week brings, and I love being a part of the growth at Uniti Med!    
Uniti Med can help you take your career to the next level.
If you are feeling like you need a change then check out open positions at a variety of travel healthcare staffing agencies. You will find there are a lot out there and they are not all the same. Think about the type of company you want to work for, what's important to you, what they stand for and find a company that fits your needs. There are several travel healthcare agencies that work remotely, in the office, or a hybrid approach.   It's also important to establish why you want to make the change and make sure that your reasons align with the company that you work for.  
To see open positions at Uniti Med's corporate office visit the Uniti Corporate Careers Page.