Uniti Med – A Travel Therapy Agency
Want to up the ante and make your therapy career even more rewarding?  Consider traveling across the United States, helping others in their time of need, all while having more free time and making more money. As a travel therapy professional, you will be able to choose where you take an assignment, what adventure you want to go on, and what types of settings you want to work in. Our recruiters at Uniti will be there right with you every step of the way from helping you find a travel therapy job assignment, and housing logistics, to a generous compensation and benefits package. What's more rewarding than that?
Therapy Specialties:
PT – Physical Therapist

 

PTA – Physical Therapist Assistant

 

OT – Occupational Therapist

 

COTA – Certified Occupational Therapist Assistant 

SLP – Speech Language Pathologist

Audiologist
OTA – Occupational Therapy Assistant
Ophthalmic Technologist


 
Benefits and Perks
As a therapy medical traveler, you have the capacity to earn top pay in addition to tax-free incentives based on the location of the assignments you choose. This can allow for personal time off between assignments to recharge, travel the world or spend time with friends and family. These unique perks can only be found with a traveling career and Uniti is here to help get your next contract signed. 
Uniti Med offers a comprehensive benefits package for all therapy travelers. These benefits follow you no matter if your assignment puts you near a beach, a metro city, or practicing in a small town.  
401K with company match effective the 1

st

of the first day of the following month 

 

Blue Cross Blue Shield medical, dental, & vision insurance with up to 60% of premiums covered

 

Health Savings Account (HSA)

 

Life and AD&D insurance

Employee Assistance Program (EAP)

Liability insurance

 

Workers compensation insurance

 

Career opportunities across the United States

 

Round trip mileage reimbursement to and from assignment

 

Recruiter is your single point of contact

 

Competitive pay packages with per diem pay 

 

Enterprise and National car rental discount program 

 

Direct deposit payroll every Friday

 

Certification reimbursement for qualifying certifications needed for each assignment 

 

Cost of immunizations covered when required by the contract 

 

License reimbursement for new licenses needed for each assignment 

 

Continuing Education Unit (CEU) reimbursement after 750 hours worked

 

Loyalty bonus

 

Referral bonus up to $700 

 

Uniti Med welcome box for new travelers
Therapy Job Locations
No matter what type of adventure you are looking for we have it at Uniti Med. Want to experience the city life?  We have that. Maybe you want the relaxing beach life?  We have that too. Woodsy outdoor adventure more your type? Let's go hiking. With jobs located across the United States the hardest decision you will have to make is where you want to go next.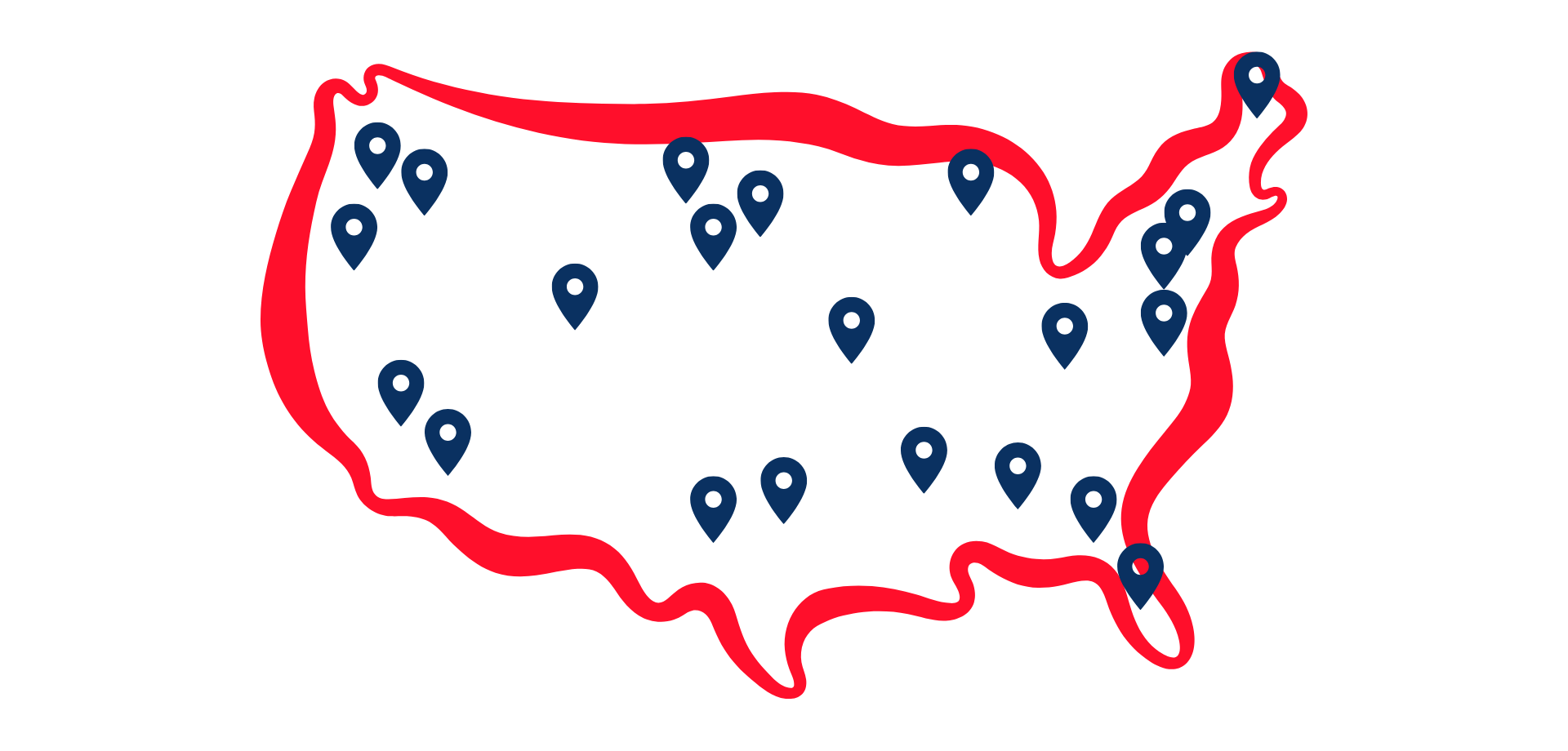 Compliance & Licensure
Uniti Med is here to support your needs in licensure and compliance. Your expert recruiter will support you in knowing what credentials are needed for each assignment. If your new assignment requires new certifications we will help you find the training, walk you through the process, and cover the financial expense so you are ready for your new assignment. We cover everything so let's get traveling!
I am having a great experience working with them. Allysa Carlson is the best recruiter!
I have had nothing but positive interactions with my recruiter Stephanie Dine. She is the best recruiter I have encountered in my travel nursing career by a wide margin. She keeps me up to date about potential job opportunities and reaches out to make sure that I have everything I need. I would strongly recommend considering working with her if given the opportunity.
Danielle Donohue
2022-06-08
I've worked for Unitimed Partner's since June of 2021, and they've been nothing short of an incredible company to work for. Stephanie Dine is my current recruiter, and she's gone above and beyond assisting me with scheduling issues, health issues I've had ongoing, and never hesitates to reach out and see how I'm doing. 10/10 would recommend! Whether you're a travel nurse or a facility looking for contracts to work with you, reach out to Unitimed. You will not be disappointed!
Deborah Benner
2022-06-03
I was connected with a vested recruiter through Nomadicare and I became connected with Stephanie Dine and UnitiMed. My first travel assignment and I was very nervous. I was helped through every step of the way. Stephanie is a great match for me and always checking on me which is much appreciated. Thanks so much Stephanie and UnitiMed.
Stephanie Dine is one of the best recruiters you could ask for! This was my first travel assignment and I was extremely worried at first. Stephanie was with me every single step of the way. She checked in on me every single week. She answered every single question before I started and helped me with the entire start up process. She is very kind and considerate of your time and values you as a nurse. I will be using her for all of my travel contracts! I am so grateful for how much she did for me! I also want to say the entire company is amazing, everybody is willing to help you through your entire journey!
Casey French is the absolute best recruiter that I have ever had the pleasure of working with. From the very beginning he has gone over and beyond meeting all of my needs. I had been with a bigger agency for many years, but I made the decision to change to Uniti after the initial telephone encounter with Casey. I have now found it was the best decision I could have made. For those who are afraid to jump ship and go to a smaller agency, please reconsider. At Uniti Med Partners, I no longer feel like just a number, not only do I have an agent that truly looks out for my best interests, I have also gained a friend. Do yourself a favor and give Uniti a chance, you will not regret your decision!
I have had a great experience since I started traveling with Uniti med. Justin Jacob is my recruiter and has made the process go smoothly from the beginning. I was really nervous to start the travel adventure, but he helped make it a great experience.
Micaela Diarrassouba
2022-04-20
A company that truly tries to lead with heart. I feel lucky to work for a company that is full of the best people with a desire to help make sure every health care professional gets the best customer service. Love the people, the job, and the vision of Uniti!
Stephanie Dine has been absolutely amazing from day one. Stephanie comes highly rated and matched specifically for me via Nomadicare. She has been extremely attentive, supportive, and always available. If she is out of the office...i always have a back up resource. My husband and i choae uniti med because they were very comproable to market AND most importantly offered a 401 with company match. The onboarding was not difficult and all staff have been extremely supportive.