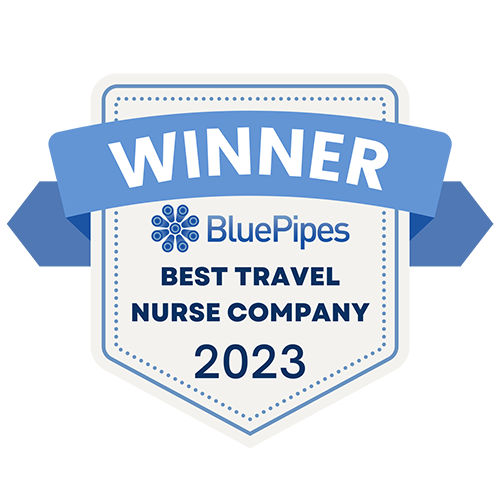 Uniti Med is absolutely thrilled to announce that they have clinched an impressive #2 ranking on BluePipes' highly coveted Best Travel Nursing Company list for 2023! Outshining over 420 competitors in the travel nursing industry, Uniti Med has truly proven their excellence in providing top-notch nursing services. This remarkable achievement is a result of an exhaustive evaluation process, which involved meticulously scrutinizing reviews from six different platforms. By carefully tallying review counts and assessing review scores in comparison to the previous year, BluePipes has crafted an exclusive top 20 list that showcases the absolute best in the field. Discover the methodology behind calculating these rankings and delve into the details of the Best Travel Nursing Companies list here. Join us in celebrating Uniti Med's well-deserved recognition as a leading force in the travel nursing world!
What Making the BluePipes 2023 List Means to Uniti Med
"This recognition is so meaningful." Said Chad Crawford, VP of Sales, "Our recruiters strive to not only create the best experience for the travelers we work with but to also to make a positive impact in their lives.  This is done by offering up our expertise in the job market and fostering genuine friendships that remain even after traveling is complete.  This award validates so much of what we strive to be and the care that we have for all those that we work with.
President and COO, Chris Sund added, "This recognition means a lot to us, because it's based on the incredible feedback from our healthcare professionals. Their trust and satisfaction are what drive us to continuously improve and provide exceptional experiences. They are the reason why we work so hard and why we love what we do!"
What is BluePipes?
BluePipes is a travel healthcare website dedicated to the industry that connects healthcare professionals with travel agencies to aid them in finding a position. BluePipes.com has a wealth of valuable insights, resources, and can help travelers with document, pay and relationship management. To learn more about BluePipes see our BluePipes blog post.
Uniti Med
Uniti Med is a medical staffing company founded in 2021 that is dedicated to placing travelers in premier locations around the United States. Starting in the heart of Omaha the corporate office has grown to over 100 employees. Uniti Med is proud to be recognized as a Best of Omaha employer, certified as a Great Places to Work For, Clearly Rated Best of Staffing Talent, SIA's Best Staffing Firms to work for and is a Best Places to Work in Omaha. For more information on Uniti Med visit: www.unitimed.com.