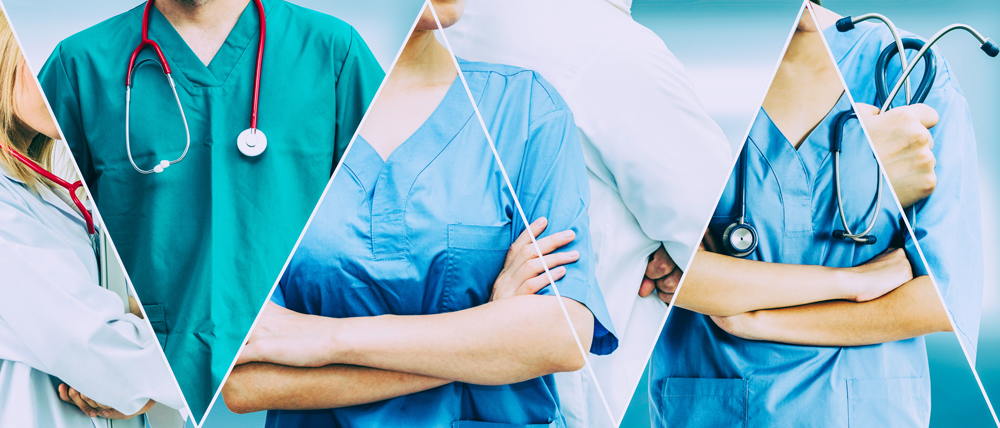 Have you ever wondered what healthcare specialties have travel jobs open? Have you thought about becoming a traveler but aren't sure if your current healthcare modality has a lot of opportunities for traveling? Read more to see all the modalities that Uniti Med offers 13-week contracts in and get started planning your travel adventure.
Hospital Nursing: 
As we all know, when Covid first broke out, the entire world transformed.  Millions fell ill, being rushed to hospitals and quarantined for weeks, sometimes months! Standing through it all was the nurses.  Nurses are often needed and have several options when becoming a travel nurse. Even better, there are so many options for specialization one can pursue as a nurse.  For example, if you as a nurse love working with children, you can specialize in Pediatrics.  Intrigued by the human mind?  Specialize in Psych or Behavioral Health.  There are numerous paths you can take in a nursing career, and having the ability to travel is an extra bonus! 
Sterile Processors and Surgical Tech also play a vital role in hospitals.  Sterile Processors have a very meticulous job and are responsible for keeping labs, equipment, and supplies sanitary to prevent the risk of contamination. Surgical technicians are responsible for assisting with surgical procedures in an operating room.  They often monitor a patient's vital signs throughout a surgery and assist the crew by handing them tools/equipment needed. 
There are all sorts of hospital nursing careers!  Take a look below to check out all of the specialties that Uniti Med is currently staffing: 
Med Surg

 

ICU

 

ER

 

PCU/Stepdown

 

Telemetry

 

OR

 

Labor and Delivery

 

PACU

 

Peds

 

NICU

 

LTAC

 

Postpartum

 

CVOR

 

CVICU

 

Behavioral Health

 

Cath Lab

 

EP RN

 

Diagnostic Radiology

 

Rehab

 

Telehealth

 

Case Management

 

Transplant Coordinator

 

Infusion

 

Infection Prevention

 

Nurse Manager

 

COVID Screener

 

Vaccine Administrator

 

Certified Sterile Processor

 

Certified Surgical Tech

 

OR Tech

 
Long Term Care: 
Long-Term Caregivers like Certified Nursing Aides (CNAs) and Certified Medication Assistants (CMA) help with their patients daily needs, monitoring their health, and ensuring they are as comfortable as can be.  They see the patient's improvements and setbacks.  They develop great relationships with the patients they care for.  Other Long-Term Caregivers, such as Directors of Nursing and Administrators, play a very important role in the healthcare domain.  Developing training programs and operations, budgeting, monitoring expenses, and overseeing shift changes are just a few out of the dozens of responsibilities they take on in order for the nursing department to succeed. 
Interested in a Long-Term Care traveling position?  Take a look at the specialties Uniti Med currently staffs: 
Certified Nursing Aide (CNA)

 

Medication Aide/Certified Medication Assistant (CMA)

Licensed Practical Nurse (LPN)

 

Long-Term Care Registered Nurse (LTC RN)

 

Director of Nursing (DON)

 

Administrator/Executive Director
Home Health 
Home Healthcare Workers' responsibilities are pretty similar to those as LPNs, CNAs, and RNs in facilities only they provide care at the patient's homes.  Some work with patients on a long-term, full-time basis, while others can have multiple patients each day.  They coordinate a plan with the patient, their family, and their physician in order to establish the treatment needed to ensure they receive the best care.  These tending professionals give patients the comfort of being able to heal in their own home, and not having to worry about staying in a hospital. 
Want to take a traveling position in Home Healthcare?  See all the Home Health specialties that Uniti Med currently has: 
Home Health CNA

 

Home Health LPN

 

Health RN

 

Home Health

 

Clinical Manager

 

Hospice LPN

 

Hospice RN

 

Home Infusion RN

 
Therapy 
Yes, there are traveling opportunities for Physical Therapists, Occupational Therapists, and Speech Pathologists, too!  Physical and Occupational Therapists as well as Assistants help patients with injuries, prepare for pre-op procedures, help post-op patients regain their range of motion, and overall help improve their everyday life.  Speech Language Pathologists (SLPs), on the other hand, are responsible for helping people communicate properly.  They work with those who experience voice disorders, are unable to speak or understand language, and even those who have difficulty swallowing.  Not only do they help with communication, but they also play a big part in helping monitor and diagnose those with autism.  All these therapists may come in different forms, but their end goal is all the same; to help people improve their quality of life.  
Interested in a travel therapy path?  Look what's out available at Uniti Med: 
Physical Therapist (PT)

 

Physical Therapist Assistant (PTA)

 

Occupational Therapist (OT)

 

Certified Occupational Therapist Assistant (COTA)

 

Speech Language Pathologist (SLP)

 
Radiology 
The Radiology field, in some ways, is like being an investigator.  A big part of the job is to look for clues, describe the results, and determine the findings (diagnosis).   They can help verify if a patient is internally injured, has cancer, is pregnant, or has other types of health conditions.  Their job is very crucial in the healthcare sphere, and they can help determine past, present, and even future conditions. 
Radiation Therapists and Nuclear Medicine Techs use medicine and technology to eliminate or damage cancer cells and tumors.  Basically, they are the Terminators of cancer.  Not only is their job to destroy any existing cancerous cells, but to prevent them from spreading as well. 
Take a look at what traveling Radiology positions are offered at Unit Med:  
CT Tech

 

MRI Tech

 

Rad Tech

 

Nuclear Medicine Tech

 

Mammography Tech

 

Dosimetrist

 

Radiation Therapist

 

Ultrasound Gen/Echo/Vascular

 

Interventional Radiology Tech
Laboratory 
These "behind-the-scenes" professionals are relatively similar to the radiology crew where their job is to find any evidence of abnormalities in tests.  When the Phlebotomist collects your blood sample and takes it back to the lab, a Medical Technologist, Lab Assistant, Cytotechnologist or other type of lab professional looks to detect any possible diseases.  These findings assist doctors in providing a diagnosis or ruling out any existing conditions.  
Considering a travel laboratory position?   See what specialties are available through Uniti Med: 
Medical Technologist (MT)

 

Medical Laboratory Technician (MLT)

 

Histotechnician

 

Histotechnologist

 

Phlebotomist

 

Cytotechnologist

 

Pathologist Assistant

 

Lab Assistant

 

Lab Director/Manager

 

Clinical Laboratory Scientist

 
Cardiopulmonary 
With heart disease being the leading cause of death for both men and women, careers in Cardiopulmonary are needed now more than ever.  Healthcare professionals such as EKG Technicians administer tests to determine the cardiovascular health of patients and can help discover any irregularities within the heart that could lead to an attack or disease.  Respiratory Therapists and Care Practitioners specialize in helping those having trouble breathing.  They can work with those suffering with asthma, undeveloped lungs, bronchitis, COPD, and heart disease.   Unfortunately, heart disease continues to increase, but there is hope that with more treatment and studies, those rates will one day go down. 
Trouble sleeping?  Hey, who doesn't these days, but some of us struggle more with it than others to a point where it affects our day-to-day tasks and can take a toll on one's mental and physical health.  Polysomnographic Technicians/Technologists help doctors diagnose sleep disorders by monitoring patients during sleep studies.  Their profession helps determine what may be troubling our sleep and can get one back on track to a good night's rest!  
Traveling Cardiopulmonary careers have anything from Respiratory Therapists to Techs.  Check all the modalities that Uniti Med staffs: 
Certified Respiratory Therapist (CRT)

 

Registered Respiratory Therapist (RRT)

 

Polysomnographic Technician/Technologist

 

EKG – Electrocardiogram

 

Perfusionist

 

Respiratory Care Practitioner

 

Anesthesia Technician

 

Cath Lab Tech

 

EP Tech



At Uniti Med, we staff many of modalities across the United States. Taking your medial career on the road is one way to experience different places, meet new people, learn new settings and skills, and more. You can do all of this while earning top pay, taking time off when YOU want and going to the places that you want. You really are in charge of your career and what experiences you get to do. Why wait? Start your search for a rewarding travel healthcare career by visiting the Uniti Med job page today or call 402-364-0901 to talk to a recruiter today!