Uniti Med is proud to announce that we have won the Best of Staffing Talent Award for providing superior service to their candidates. Presented in partnership with presenting sponsor Indeed and gold sponsor Talent.com, ClearlyRated's Best of Staffing® Award winners have proven to be industry leaders in service quality based entirely on ratings provided by their candidates. On average, job seekers who work with winning agencies are [1.8 times OR 80%] more likely to be completely satisfied with the services provided compared to those placed by non-winning agencies. Uniti Med received satisfaction score of 9 or 10 from 88.8% of their placed job candidates, significantly higher than the industry's average of 45%. Uniti Med also received a Net Promoter® Score of 86.6%, more than 4.5 times the industry's average of 19% in 2022. Thank you to all the travelers that took the survey.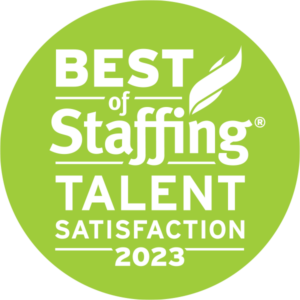 "We are extremely proud to announce that Uniti Med has been awarded the Best of Staffing – Talent Satisfaction accolade by ClearlyRated. This recognition holds immense significance for us as we continuously strive to ensure an exception experience for our healthcare travelers. Our success is a result of the strong relationships we cultivate, which in turn enhance the quality and value of the services we provide. This achievement motivates us to continue our efforts in improving and enhancing our overall experience." Said President and COO, Chris Sund.
"I am pleased to introduce the 2023 Best of Staffing winners alongside their validated service ratings on ClearlyRated.com," said ClearlyRated's CEO, Eric Gregg. "These firms have demonstrated a remarkable commitment to delivering amazing experiences, despite another year of upheaval and macroeconomic uncertainty. Hats off to these service leaders – it's truly an honor to recognize and celebrate their achievements."
About Uniti Med
Uniti Med is a medical staffing company founded in 2021 that is dedicated to placing travelers in premier locations around the United States. Starting in the heart of Omaha the corporate office has grown to over 100 employees. Uniti Med is proud to be recognized as a Best of Omaha employer, certified through Great Places to Work for 2023. For more information on Uniti Med visit: www.unitimed.com.
About ClearlyRated
Rooted in satisfaction research for professional service firms, ClearlyRated utilizes a Net Promoter® Score survey program to help professional service firms measure their service experience, build online reputation, and differentiate on service quality. Learn more at https://www.clearlyrated.com/solutions/.
About Best of Staffing
ClearlyRated's Best of Staffing® Award is the only award in the U.S. and Canada that recognizes staffing agencies that have proven superior service quality based entirely on ratings provided by their clients, placed talent, and internal employees. Award winners are showcased by city and area of expertise on ClearlyRated.com—an online business directory that helps buyers of professional services find service leaders and vet prospective firms with the help of validated client ratings and testimonials.