Becoming a Travel Nurse: Benefits and Compensation
Leaving a predictable, permanent position as an RN can be intimidating. When considering the possibility of becoming a travel nurse, one of the first questions often is, "What are the benefits of travel nursing" and "What can I expect for compensation and benefits?"  A good recruiter will advise how travel compensation works, answer questions that arise during your transition, and assist you at every turn of your newfound adventure.
In years past, transitioning from a permanent staff position to travel nursing came with an income boost in exchange for less stability and fewer benefits. To nurture a positive experience, the best agencies have found better ways to support their nurses' physical and mental health, work-life balance, and the well-being of their families. Today, most supplemental staffing agencies offer competitive benefits in addition to a significantly higher compensation package.
Travel Nurse Salaries
The pandemic has significantly impacted the salary range a travel nurse can expect. The market has been tight for several years due to retirements, an aging population increasing patient ratios and several other factors. This staffing shortage has resulted in upward pressure on travel nurse demand and positively impacted wages. Add in the effects of pandemic caseloads and layoffs due to vaccine mandates and the shortage has only been exasperated. Some prognosticators believe there will be a correction coming at some point, but its doubtful wages will ever fall to pre-pandemic levels. What does this all mean for the nurse contemplating going on the road?  There has never been a better time as there are no signs that demand or wages are going to subside in the foreseeable future.  
One of the main benefits of travel nursing is salary. Compensation for travel contracts comes in the form of weekly pay packages.  These packages are dependent on several factors, including assignment location, specialty, shift, length, and the severity of need. According to a survey of over 80,000 travel nurses conducted by Indeed, the average yearly salary of a travel nurse in the U.S. is $108,197, a significant increase from the permanent staff RN's average yearly income of $75,330 (U.S. Bureau of Labor and Statistics). This equates to an additional $164,335 over a 5 year period!
The salary range can vary wildly depending on a facilities ability to pay crisis rates. Travel RNs can safely expect to exceed the national average of $2,075 in gross weekly wages on a traditional 36-hour schedule whether working for a large hospital system or a small community hospital.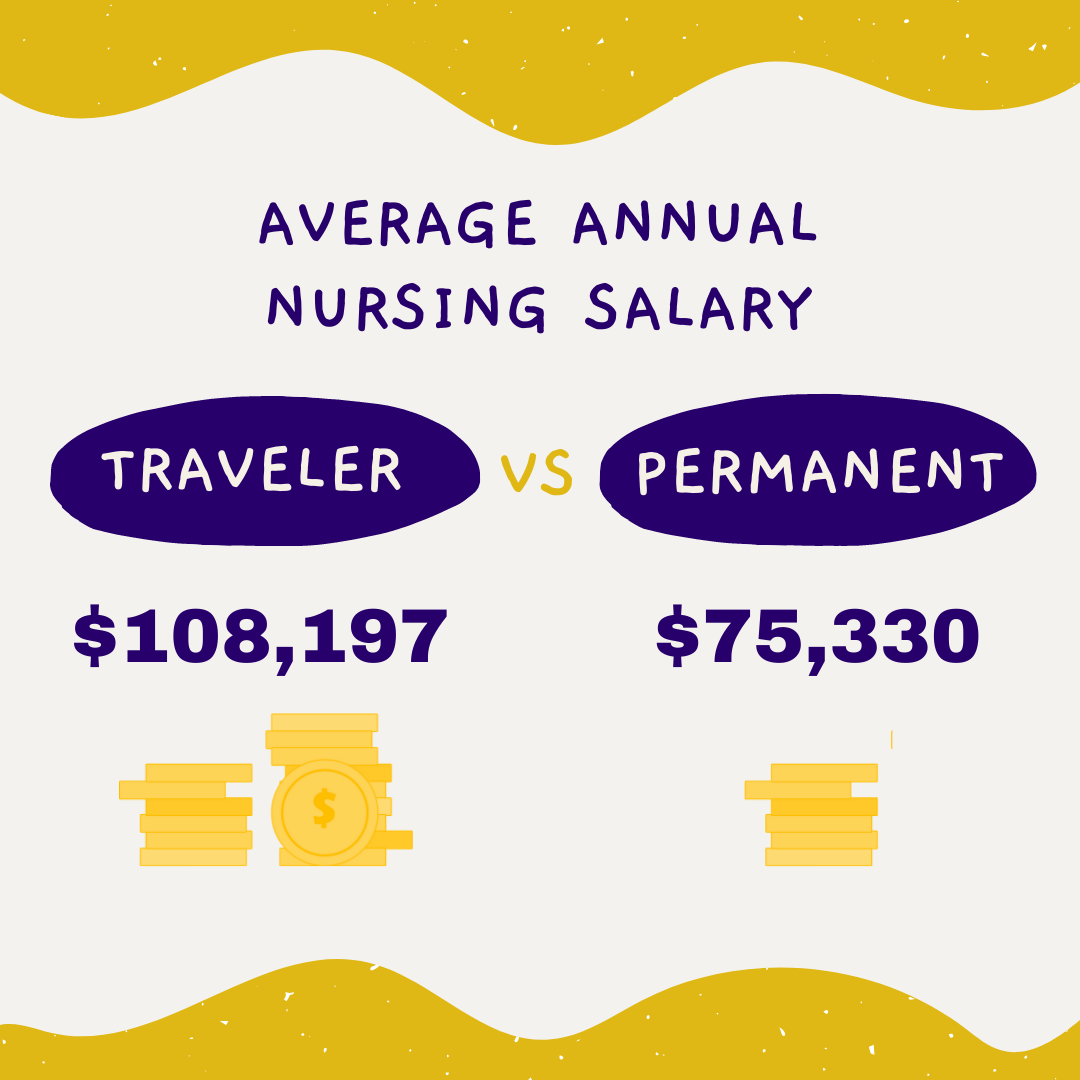 Travel Nurse Benefits
Industry standard for agencies is to provide employment benefits to their travelers, so a travel nurse should be asking recruiters what benefits their company offers, not if their company offers them. An agency which values their healthcare workers will show this by offering benefits that support their employees at home as well as at work.
Uniti is traveler obsessed and we are proud to offer competitive benefits that reflect our core values. We offer health, dental, and vision insurance and cover 60% of the monthly premium. We offer basic and voluntary life insurance. Our 401(k) benefit is outstanding in the industry:  our travelers' retirement contributions are matched and vested on day one of eligibility. The first month following your contract's start date, we match up to 4% and every penny we contribute belongs to you immediately; no years-long waiting period.
We offer another unique reward to our travelers:  our newly released YOUniti app, wherein travelers can access their voluntary benefits as well as numerous perks and discounts through a carefully selected partner network.  Our hope is that our app shows how valued our travelers are and supports them in creating a work-life balance. We do our best to ensure our nurses and allied health professionals are happy, healthy, and thriving to provide the absolute best patient care.
Travel Nursing: Personal and Professional Rewards
Beyond compensation, there are many other benefits of travel nursing. A career on the road can offer networking, exploration, variety and extra time off!
1.) Networking
Around here, we talk about community every day. Good recruiters value expanding their communities to include industry professionals around the country. As a traveler, a nurse has the unique opportunity to connect with colleagues from every state and from diverse backgrounds. Travel nurses can network, or grow their community, to encompass more professionals than one can hope for from a permanent staff position.
2.) Exploration
Travel nurses spend their careers gathering new experiences and seeing new places, potentially every 13 weeks. A standard 36-hour contract still leaves four days of the week for exploration.  Whether an assignment is rural or in a large city, travel nurses can expect one thing to be consistent: there will always be new sights to see.
3.) Refresh with Every Contract
Burnout is a significant problem in the nursing profession, and the problem grew exponentially with the pandemic. The community depends heavily on nurses and their compassionate, demanding work. It is a lot of responsibility and pressure to shoulder, and hospital politics can often compound matters. A new contract, new hospital, and new coworkers come with every assignment. It is one of the best preventative medicines for burnout, second only to our impressive benefits offerings and caring, supportive recruiters.
4.) Time Off Between Assignments
In today's healthcare climate, it is challenging for both travel and staff nurses to get their requested time off granted. Travel nurses enjoy the benefit of being able to choose when they pick up their next assignment. Upon completion of their contract, a travel nurse can immediately start a new assignment, extend their current assignment, or take time off before pursuing another travel position. There is no requesting approval or any work obligations to consider. Travel nurses are in full control of how much time they take off between assignments.
Should You Become a Travel Nurse?
The benefits of travel nursing are endless. Getting into the industry, whether you have got two years under your belt or 20, can be intimidating and confusing. The industry is filled with misinformation, particularly on social media platforms. The most important part of becoming educated about travel nursing is finding a patient, caring recruiter who is willing to take the time to support you and answer your questions. It is common and encouraged to work with 1-3 recruiters, particularly with your first contract.  This will keep your options open and allow you the freedom and exposure needed to select a recruiter who values you, understands your work, and reflects your own values. If you are interested in travel nursing and have questions, please contact us and ask for one of our nurse recruiters.  Pack your scrubs!   We'll take care of the rest!