Congratulations, you've decided to take the plunge into travel nursing! You've passed your NCLEX, received your RN degree, and gotten some years of experience under your belt – now what? You're licensed in your home state, but what about other states? Fortunately, we have all of the information you need to be a travel nurse in all 50 states!
Every state is different when it comes to getting licensed. Some states are compact while others aren't. Some are free to apply for your license, while others require a small fee. Whichever state you plan to travel to, it's important to know what you need to do to get compliant. Click any state below to find out their specific requirements.
When applying make sure you are printing legibly in black ink or type out the application. 

 

Provide your current residential address as verified by tax records. Submitting an alternative address, such as one within a compact state or an address associated with a staffing agency, may lead to potential delays.

 

Provide up-to-date contact information, including an active email address. While most Boards of Nursing (BONs) typically use traditional mail for correspondence, having an email address and phone number on file can facilitate prompt communication in case of urgent matters.

 

Provide a social security number that have been issued by the United States Social Security Administration. If you do not possess a social security number issued by the U.S., we recommend keeping this section empty. In most states, an SSN is not mandatory for obtaining a permanent license. However, providing false information may result in processing delays.

 

Provide details pertaining to your fundamental RN education. This information will be recorded and cross-referenced with the education data listed in the Exam State.

 

Document essential information concerning the National Licensing Examination, which should include the following: the specific exam you successfully completed, the date of the exam, the state where the examination occurred, and whether or not you acquired a license in that particular state. If the licensure did not occur in the same state where the examination took place, be ready to provide supporting documents explaining the reasons behind not obtaining the license in that state.

 

Provide a comprehensive list of all the countries, territories, and provinces where you have been employed, granted authority to practice, or held a nursing license.

 

Document all RN licenses and permissions to practice, starting with the original license issued through examination. Ensure that you include license numbers.

 

Blurry or damaged fingerprints can result in a delay in the application process. Many states now provide an alternative to the traditional manual fingerprint card. The Livescan service allows for the electronic submission of fingerprints directly to the Board, significantly expediting the process compared to manual fingerprint cards. However, there's a caveat: the nurse must be physically present in the state where they seek licensure to complete Livescan. It cannot be done from outside the state. You can locate a

nearby Livescan service provider here.

 

Apply for your license as far in advance as possible. Each state has an estimated different amount of time it will take to receive your license and processing time could vary due to a variety of factors or errors.

 

If you are seeking licensure through endorsement, you will be required to confirm the validity of an active nursing license. We recommend utilizing

Nursys.com

to fulfill this requirement. Nursys is the sole national database for verifying nurse licensure, disciplinary records, and practice privileges for both RNs and PN/LVNs licensed in participating jurisdictions, which encompass all states within the

Nurse Licensure Compact (NLC)

. However, it's important to note that not all states make use of this database. If your state does not participate, you will need to verify your license directly through the state's Board of Nursing (BON).

 

Only send sealed transcripts mailed directly from the college or university. Processing times will vary from school to school so make sure you are ordering your transcripts in advance so you do not hold up the process. 

 

Create a digital document or folder to include documents that will be requested when applying at the time of licensure:

 
Create a digital document or folder to include documents that will be requested when applying at the time of licensure: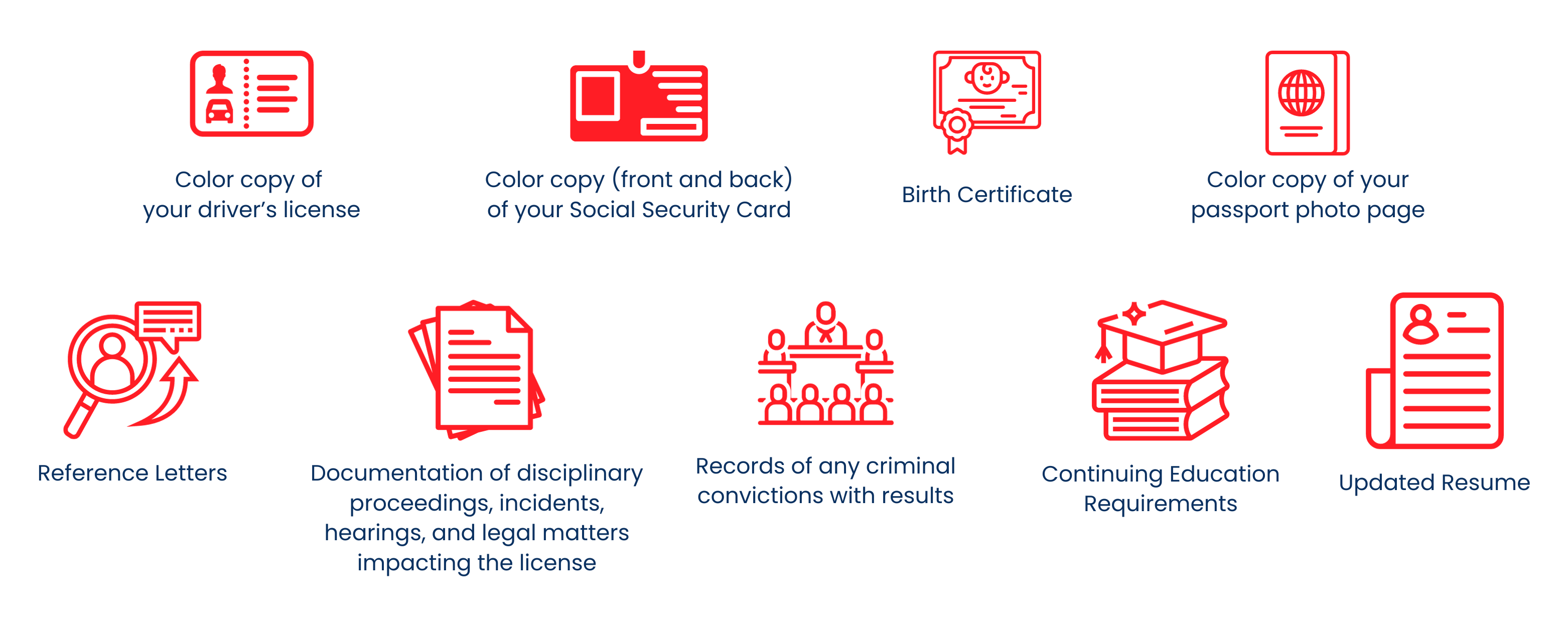 You have several choices for submitting your license application, which include in-person submission, mailing it in, or applying online. Typically, applying in person is the quickest option. However, if an in-person submission is not feasible, applying online is generally faster than using the mail-in option. Additionally, we advise reaching out to your state's Board of Nursing (BON) via phone to inquire about your license, particularly if you require expedited processing.

 

While awaiting the issuance of either your temporary or permanent license, it's crucial to monitor its status. Employers may be unable to proceed with candidate interviews until the candidate's license status is, at the very least, marked as "pending."
Reasons your License can be delayed:
Incomplete application

 

Illegible application

 

Issues with an applicant's education

 

Issues regarding an applicant's address or declaration of primate state of residency

 

The need for eligibility review

 

Outdated application

 

Not sending the correct amount for the endorsement fee

 

Not signing or dating the application

 

Missing eligibility documents

 
Nurse Careers That Require Licensure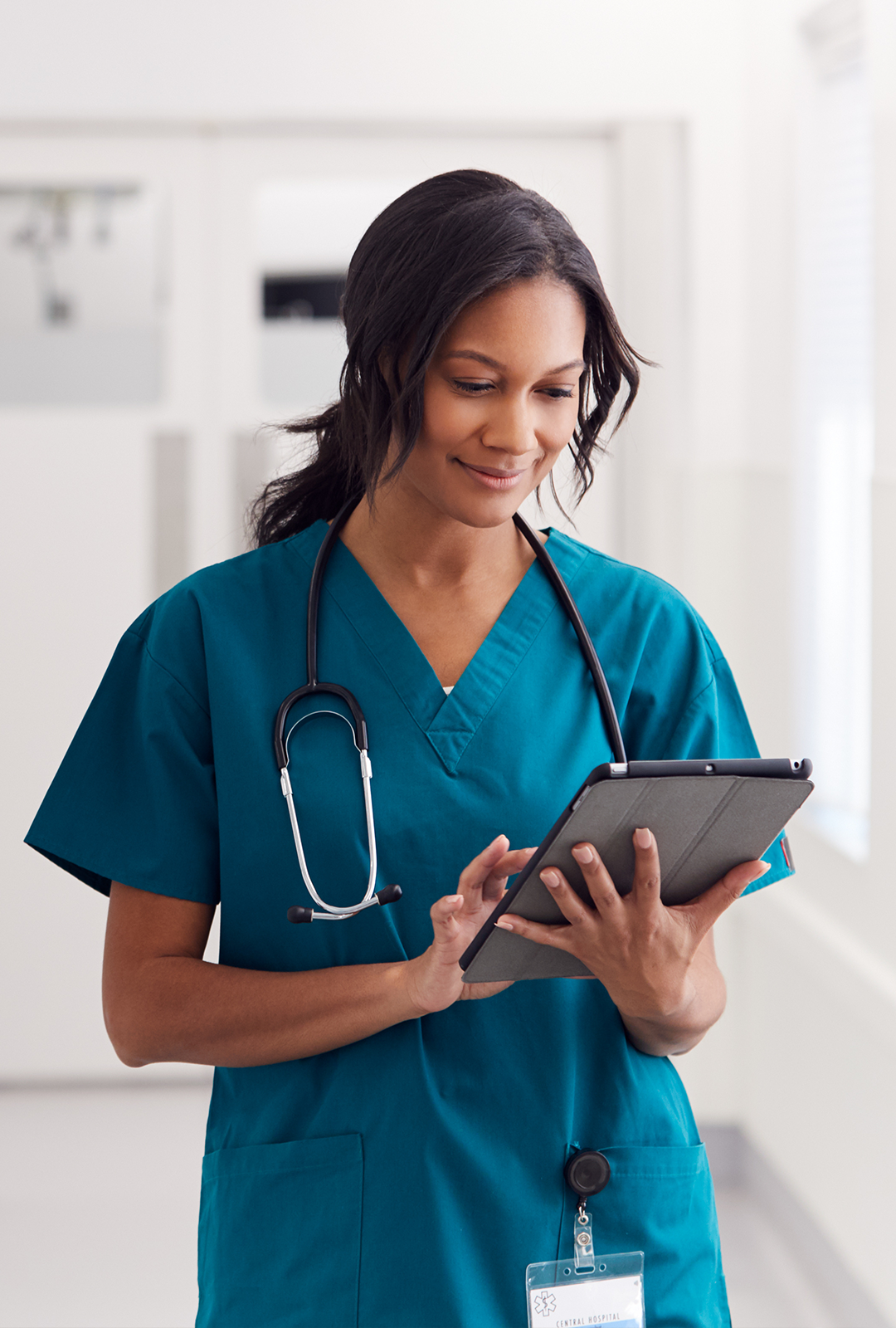 Licensing is an essential component of any nursing program. Each state maintains their own regulations so it's important to know what is needed for each state license that you apply for. The four nursing programs that require licensing are:
Certified Nursing Assistants (CNAs) -multiple states also call this Licensed Nursing Assistants (LNAs)
Registered Nurses (RNs)
Licensed Practical Nurses (LPNs)

 

Advanced Practice Registered Nurses (APRNs)
General Licensure Requirements
Each state will require different specifications to obtain your license, however in general you will need the following for most states:

Graduation from a board-approved education program

Pass the

NCLEX

exam

 

Report of all criminal convictions – juvenile convictions, chemical dependencies, and functional ability deficits

 

Verification of original state of nursing licensure 

 

Original transcripts sent to the Board of Nursing (BON). The college or university MUST be the sender of the transcripts.

 

Current list of Continue Education Units (CEUs)

 

Proficiency in the English language

 

Good moral character and sound physical and mental health
What is NURSYS
National database for verification of nurse licensure, discipline and practice privileges of RNS, LPNs and APRNs licensed in participating jurisdictions, including all states in the Nurse Licensure Compact (NLC).

 

Publicly available

 

Nurses can get free license expiration and status updates via email 

 

QuickConfirm to verify a nurse's license and discipline status for free

 

Request verification when applying to a new state

 
eNLC– The Nurse Licensure Compact (NLC) allows a nurse to have one multistate license with the ability to practice in their home state and the other participating compact states. In 2018, terminology changed, and the NLC became the eNLC.
Walkthrough License – This license allows nurses to start working quickly while they're in the process of receiving a permanent license for that state. Walkthrough states are an excellent option for travel nurses whose PSOR isn't a compact state. As we know, licensure times vary significantly from state to state, but there are a few states that process temporary licenses quickly. You may even get your temp license within 48 hours. This is a privilege for nurses who hold a current license in another state. For travel nurses, you'll also need to be in the application process for your permanent license.  
State-Specific License – There are a few states that don't fit either of those scenarios. And that means you'll need to apply for licensure to be eligible to work in that state. Since these states operate independently, the licensure timeline can vary greatly. And some states, like California, can take months to issue your license. We recommend being open with your recruiter as soon as possible about your personal and professional goals so they can start the process as quickly as possible. However, our nurses get to enjoy a more efficient experience.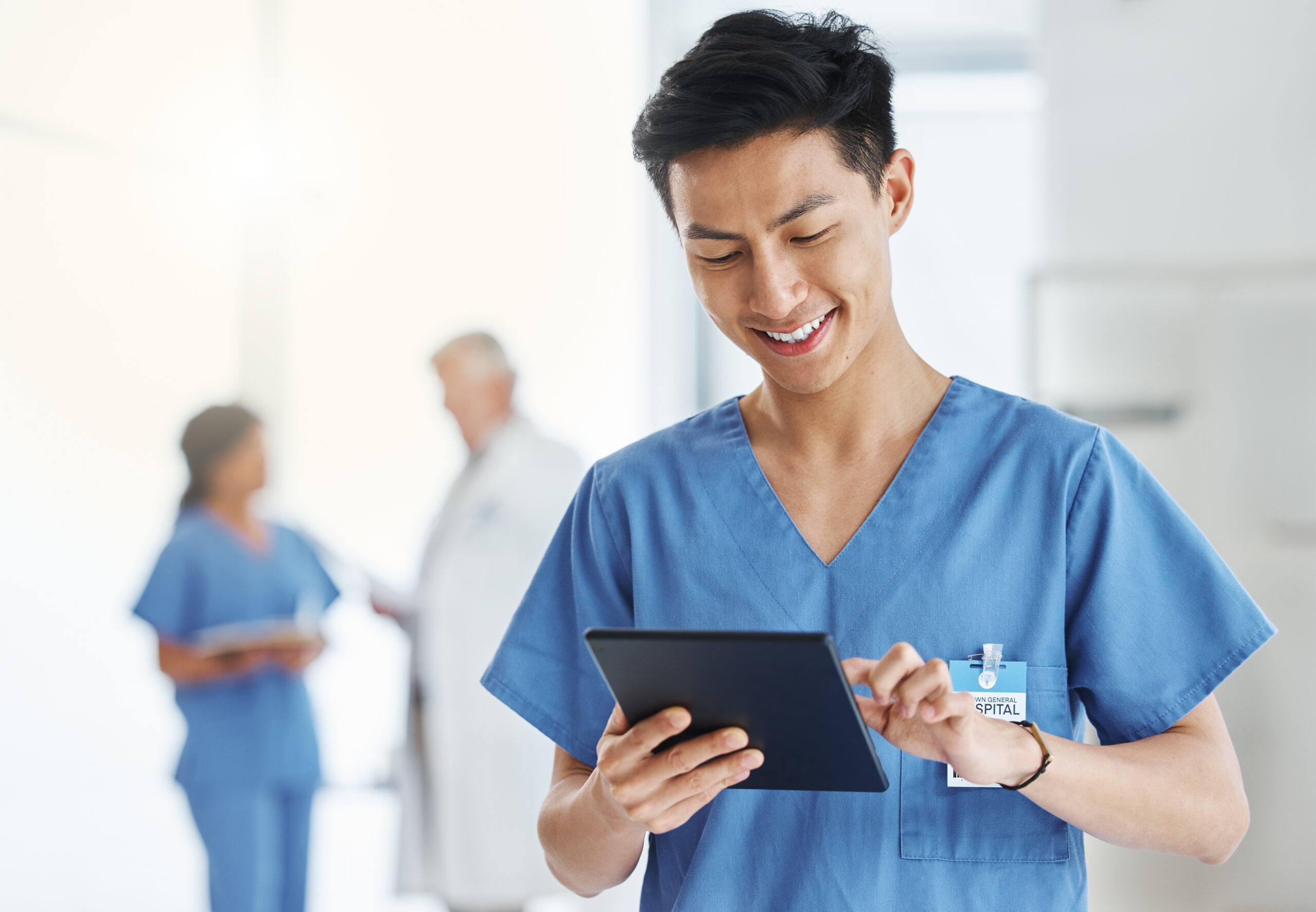 License by Exam vs Licensure by Endorsement
License by examination is for new nurses. To get this license, you need a nursing degree and must pass the National Council Licensure Examination (NCLEX) test. The NCLEX is a standardized exam used by every state's nursing board to check if new nurses are ready; it's a national requirement. License by endorsement is for nurses who are already licensed as Registered Nurses in the United States but want to get a license to work in a different state.
Nurse Licensure Compact


Many states have joined the Enhanced Nurse Licensure Compact (eNLC) since its creation in December 2018. The eNLC is an agreement among participating states to accept each other's RN licenses. Nurses in eNLC states can provide care in their home state and other eNLC states. This makes it easier for nurses to work across state lines while ensuring public safety at the state level, making it convenient for travel nurses.

 

If you already had a compact license, you'll automatically become part of the eNLC. As more states join, the process becomes more efficient and cost-effective, creating more job opportunities. 

 

The eNLC aims to:

Allow nurses to work in-person or provide tele-nursing services nationwide without needing extra licenses.

 

Make it affordable and convenient for nurses to practice across state lines.

 

Reduce costs for organizations that employ nurses by eliminating the need for multiple licenses.

 

Enable quick response to disasters by allowing nurses to cross state borders and offer essential services.

 

Support tele-nursing and online nursing education.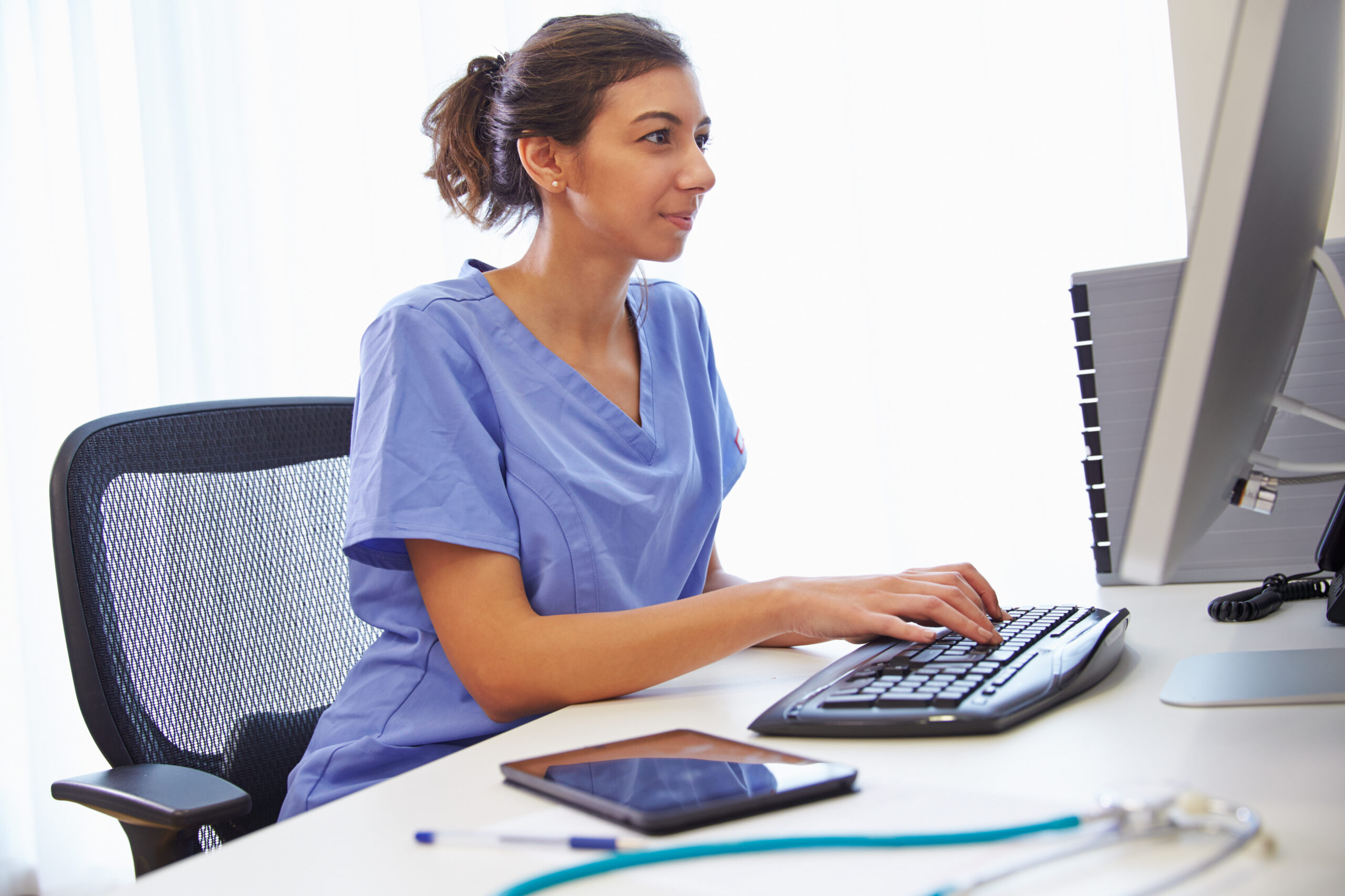 Nursing License Renewal

Whether you're a new graduate getting your license by taking an exam or an experienced nurse getting it by endorsement, you'll eventually get a permanent license. Once you receive it, it's your job to keep it in good standing, protect it, and keep it active. The timing for renewing your license depends on your state. Some licenses expire on your birthday, while others expire every 24 months from when you first got it. The rules for renewal also vary by state. Some states may require you to complete a certain number of continuing education units (CEUs) or a specific amount of clinical hours within a certain timeframe. 
Temporary Nursing License
While many states offer temporary permits to nurses seeking licensure, not all do. Some states may grant temporary permits to newly graduated nurses waiting for their NCLEX results and who want to work in a nurse-graduate program. Temporary licenses have a short validity of about 6 months, so it's essential to also apply for a permanent license to avoid any issues when the temporary one expires. Licensing times differ by state, and a few states can issue temporary licenses in just a day or two. However, you must already hold a license from another state. Nurses applying for licensure by endorsement might also receive temporary licenses. The processing time, conditions, and expiration dates can vary, so it's important to check with the state's Board of Nursing (BON).
Helpful websites: