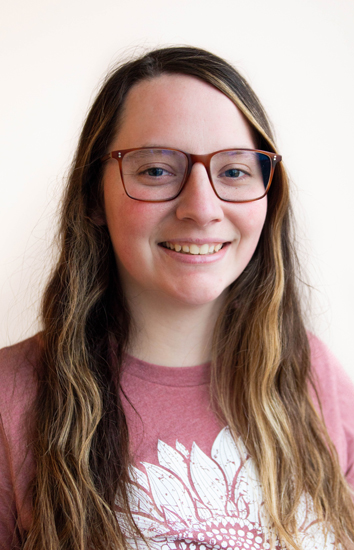 Allied Recruiter – Team Lead
mary.springer@unitimed.com
Tell us about yourself.
I have been married for a little over two years and we have a three-year-old German Shepherd Husky mix. I am currently pursuing my Master's Degree. My hobbies consist of playing video games and traveling.
What do you love about your position?
I love that I get to talk to new people everyday and help them find a position in a location that they are excited for and helping them find that next adventure.
What drives you at work?
The constant support and kindness that I receive from my coworkers, along with helping healthcare professionals find these travel positions that they are so excited about.
What makes Uniti Med a great destination for potential travelers?
Here at Uniti, we have an emphasis on building relationships with our travelers and giving them the best care and attention that we can.
What differentiates you from other recruiters?
I really enjoy building relationships with my travelers and understanding what they are looking for, along with giving them the best experience that I can.
If you could travel anywhere, where would it be?
My husband and I are planning a trip to Europe, and I am very excited for that trip!
Favorite Quotes:
"Life is not measured by the breaths we take, but by the moments that take our breath away."
"Mary checks in on me almost every day. She is so nice! She takes really good care of me and makes me feel so supported." – Ariel
"Uniti Med has been a great agency to work for! My recruiter, Mary, has been very good at communicating with me and making sure I'm prepared. The compliance department got my onboarding done quickly so I would be ready to go for my start date! I would definitely recommend Uniti Med to other travelers!" – Emily
"AMAZING RECRUITER! I have seen a lot of posts about people looking for a responsive top-notch recruiter. I have had the absolute best experience with Mary Springer with Uniti Med. I just completed a contract and she reached out to me every week to see how things were going. In her search for my new contract, she has messaged me during weekends, evenings, even as late as 10pm on a Friday night. Her dedication to me as a traveler is impressive to say the least. If you are looking for someone who is committed to you and your travel experience, you cannot go wrong with Mary!" – Connie E.
"I've been with them a week now and my recruiter, Mary, is awesome. I feel super comfortable talking to her and if I have a question she always quickly responds or lets me know she's asking the right people. They made the testing and stuff leading up quick and easy; and everything is so far so good! Also Mary has really cute puppies!" -Amryn
"Where do I start? I'm currently on week 9 at my first assignment under Uniti Med. I've been doing travel work for a couple of years and I can say Uniti Med is ranked up there on my list. Mary is hands down best recruiter I've had the pleasure working with." – Kevin
"I had the most amazing experience with Uniti Med. My recruiter Mary Springer went above and beyond. She has set the bar really high. If you are looking for a company with amazing recruiters that add that personal touch to your experience this is your company ." – Randy