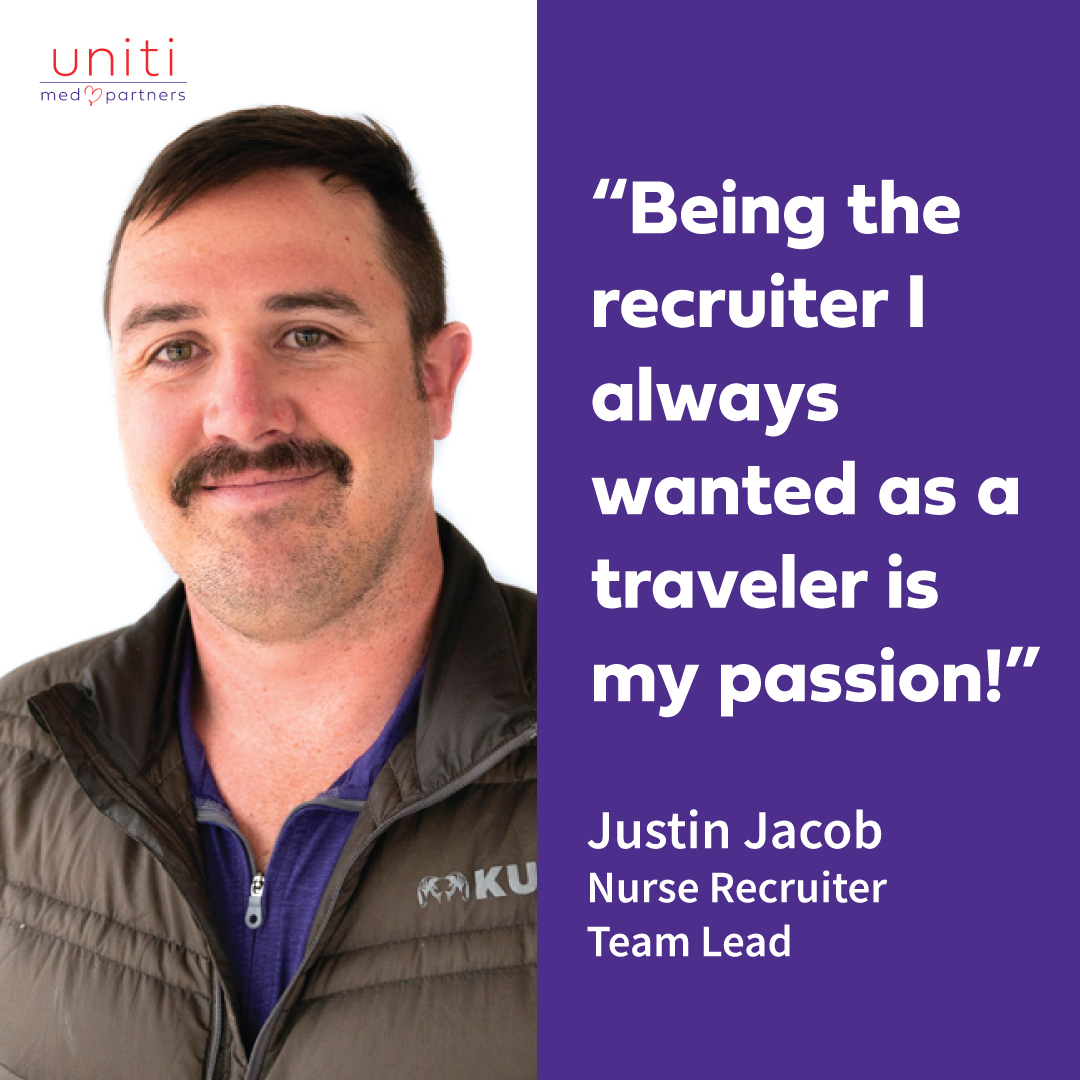 Nurse Recruiter – Team Lead
justin.jacob@unitimed.com
970-260-0187
Tell us about yourself.
I'm a traveling nurse of 9+ years who has been converted to recruiter a couple of years ago. I spend the summers at my cabin in Sitka, Alaska where I do EVERYTHING outdoors ie. fishing, hunting, hiking, backpacking, boating… all the things! I live in a cabin on an island so there is always plenty of stuff to keep me busy during my off time. I've got one dog who is the sweetest boy in the world and loves the island life in Sitka as well!
What do you love about your position?
I love helping my fellow nurses navigate through the traveling nursing world using the information I've learned as a traveler myself. Being the recruiter I always wanted as a traveler is my passion!
What drives you at work?
Helping to make a difference for not only patients by helping to provide facilities with staff but also helping nurses have amazing and fulfilling experiences.
What makes Uniti Med a great destination for potential travelers?
Uniti Med as a whole has so much knowledge and experience in the traveling industry. It is very progressive for a travel company, we have great benefits that other companies don't always offer which is really nice for contract staff. We are extremely traveler-focused and love the relationships that we build with them.
What differentiates you from other recruiters?
Uniti offers benefits that and perks that I never came across in my years as a traveler. Uniti is VERY progressive in the perks offered and truly values nurses and everything we go through. We have a great footprint in the facilities we help staff and can provide great opportunities for upcoming travel assignments.
What differentiates you from other recruiters?
I can reflect on my experiences at the bedside and relate to everything traveling nurses are experiencing. I'm 100% committed to my travelers and will always be there to advocate for and help guide them in their journey.
If you could travel anywhere in the world, where would you go?
That's a tough one! There is a lot of the world I have yet to experience but I would love to fish for golden dorado in Argentina next!
"I have had a great experience since I started traveling with Uniti med. Justin Jacob is my recruiter and has made the process go smoothly from the beginning. I was really nervous to start the travel adventure, but he helped make it a great experience." – Ashley
"My recruiter, Justin, has gone over and above and even helped me secure wonderful and cost effective housing. I can't say enough positive things about Uniti Med. I'm not just a number or another name to them – they truly take time to get to know you and understand your concerns and needs." – Erin
"Justin Jacob has made my first travel assignment an easy transition. My favorite thing about Justin is how quickly he responds anytime I reach out to him for anything. I trust he always has my best interest at heart. Thank you, Justin!" – Sandra
"I love Uniti Med! I am new to traveling, and it can be so overwhelming. You get bombarded with information and recruiters, and I felt like I was spinning in circles. When I was contacted by Uniti Med, my recruiter Justin helped me so much! He offered up information I didn't even know to ask. Any question or concern I had he had a clear answer for. Not only that, but he responds very quickly, which is really nice. The entire process was so much better with the help of the very professional, prompt, and helpful staff at Uniti Med. I will absolutely be traveling with this company for as long as I work as a traveling nurse. I would recommend Justin and Uniti Med to anyone!" – Sheridan
"I am new to travel nursing and Justin's support has been nothing but the best, plus I love his personality!" – Melissa
"I am currently on my second contract with Uniti Med and I couldn't be happier. I have been traveling for 14 years working with all the big companies and it's such a breath of fresh air to be working with Uniti. You are not "just" a number or "just" another traveler you are a person to them. My recruiter Justin Jacob is THE absolute best! I can't say enough about him. He goes above and beyond for you. It's so nice to be working with someone so genuine. He is always a phone call or text away. I have never worked with a recruiter that goes out of their way just to make sure you are happy. Thank you Justin and thank you Uniti Med! I highly recommend traveling with them. I'm not sure why I didn't switch sooner." – Carmen
"Amazing recruiter! Down-to-earth guy who looks out for your best interests! Personal experience as a traveler himself, so great source of expertise. Checks in regularly and responds quickly to needs. Words simply can't do enough justice for Justin!" – Samantha
"Uniti Med was my first travel experience and I was pretty skeptical trying travel after many years of nursing. My recruiter, Justin Jacob made this transition very easy. He is "real" when it comes to sharing his experiences and guidance. I appreciate his assistance and value his opinion. I'm glad I chose Uniti Med over other big travel companies, for those travel nurses I work with sound like their agency isn't out there to support them at all." – Melissa
"They care about their Nurses! Justin is always there and available no matter how big or small the concern is!" – Greg