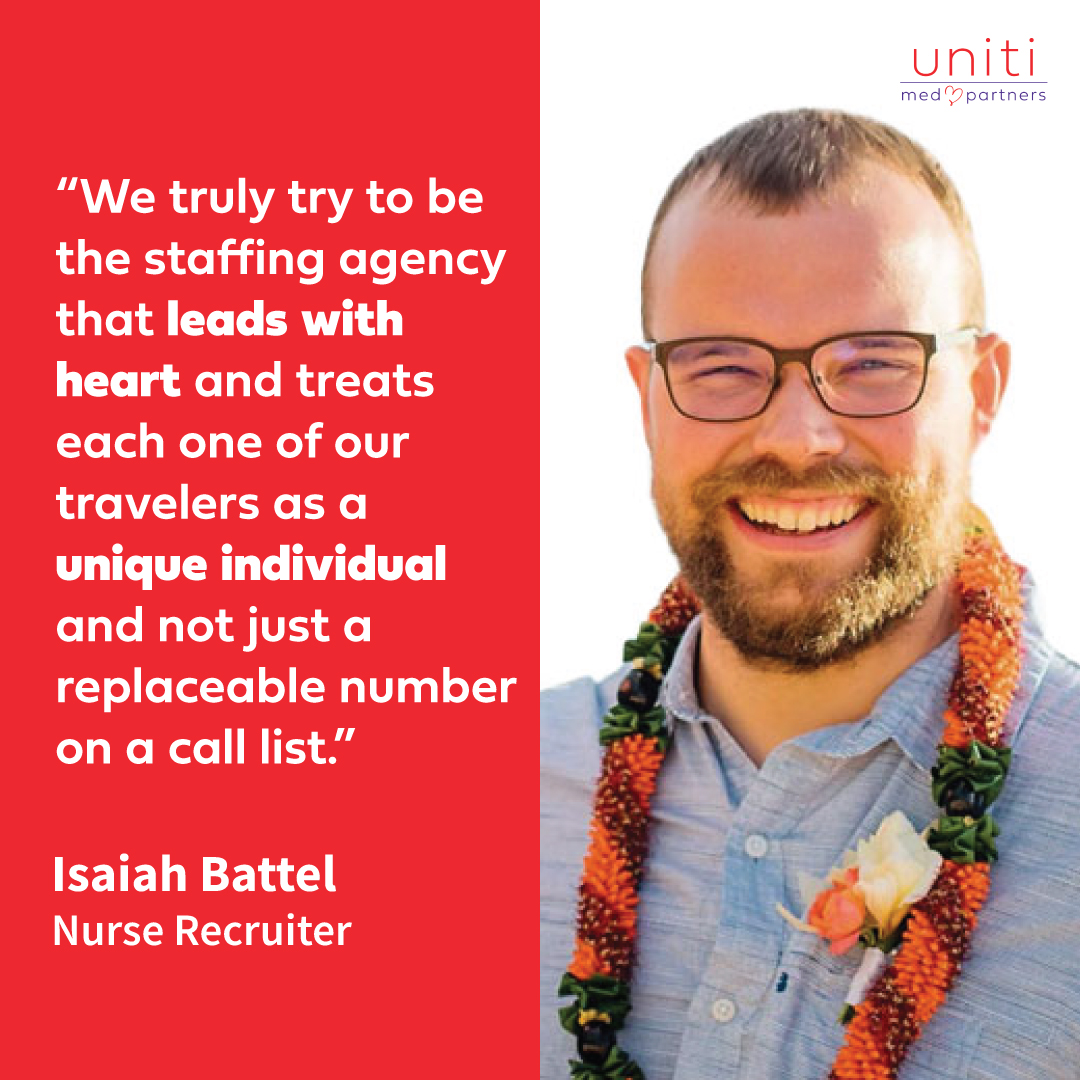 isaiah.battel@unitimed.com
m. 989-295-3917
o. 402-275-6474
Tell us about yourself.
I have a beautiful wife Birdie, (CVOR RN), baby daughter Grace, and a fur baby Spruce, a mini Schnauzer. We love to travel and experience wild things in wild places. Michigan made. Alaska living.
What drives you at work?
I want to be as generous as possible, whether that is simply being a resource or being able to assist a traveler with an ideal dream placement.
What makes Uniti Med a great destination for potential travelers?
Uniti Med offers very competitive pay packages when compared to the industry as a whole. Uniti Med is the only company I have ever found to offer 401K matching, with the employee vested from the very start and Blue Cross Blue Shield insurance if so desired. But what impresses me the most, is that here at Uniti Med, we truly try to be the staffing agency that leads with heart and treats each one of our travelers as a unique individual and not just a replaceable number on a call list.
What differentiates you from other recruiters?
My extensive travel experience as a critical care nurse allows me to possess an intricate understanding of this industry. My goal is to be the type of recruiter I always wanted to have in my corner when I was working at bedside. I've been fortunate enough to visit all 50 states, I know and love the map well! 😀
If you could travel anywhere, where would it be?
I think our short list is down to the Azores, Torres del Paine, Iceland, & Zanzibar. But to be honest, it's not so much where you go as who you are traveling with.
Favorite Quotes:
"Relationships are the currency of life."