Every May, nurses around the country are recognized during National Nurses Week for the vital role they play in healthcare. With May right around the corner, it's time to celebrate nurses. Chances are good that you know a nurse who deserves recognition for their hard work and dedication.
Nursing – The Largest Healthcare Profession
Nursing is the nation's largest healthcare profession, with nearly 4.2 million registered nurses (RNs) nationwide, according to the 2020 National Nursing Workforce Survey.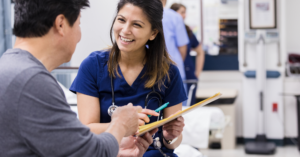 Nurses play an essential role in healthcare delivery. They provide care across a wide range of settings, including hospitals, clinics, nursing homes, schools and more. Nurses are responsible for a wide variety of tasks, including assessing and monitoring patients' health, administering medications, coordinating care, educating patients and families, advocating for patients' needs, and collaborating with other health care team members to deliver high-quality care. 
Nurses are highly skilled professionals. Their dedication and expertise make a significant impact on patient outcomes. They work tirelessly to ensure that patients receive the best possible care and are at the forefront of providing compassionate and competent healthcare services.
Shine the Light on Nurses – National Nurses Week
National Nurses Week is celebrated from May 6-12, and the American Nurses Association leads National Nurses Month through May. The theme for 2023 is "You Make a Difference," and it was selected to encourage nurses, other health care professionals, employers, community leaders and the public to recognize and promote the vast contributions and positive impact of America's nurses. It's the perfect opportunity to show appreciation and gratitude to the nurses who have made a difference in your life or the lives of others. 
Nominate a Nurse – Let Them Know They're Appreciated
Here's where you come in. Take the time to nominate a nurse in your life. Whether you are a patient, family member, colleague, or friend, we've made it easy for you to recognize someone you know. Simply fill out the Nominate a Nurse form and tell us why your nominee deserves to be recognized. Don't worry, there is no wrong answer or minimum word count. Uniti Med will compile and share submissions on our blog and social media, spreading the well-deserved recognition for the amazing work that nurses do.  
As a token of our appreciation, one lucky nominee will be entered to win an Apple Series 8 Smart Watch. It's a small gesture to show our gratitude for the incredible contributions nurses make every day in the healthcare field.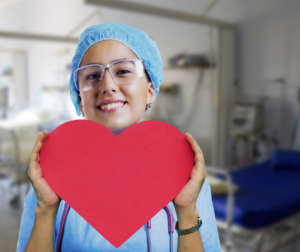 So, don't hesitate. Nominate a nurse and celebrate the nursing profession by shining a light on the heroes of healthcare. Together, we can make a difference and honor the invaluable contributions of nurses across the nation.
If you need some inspiration, check out the 2022 Nurses Week nominations.