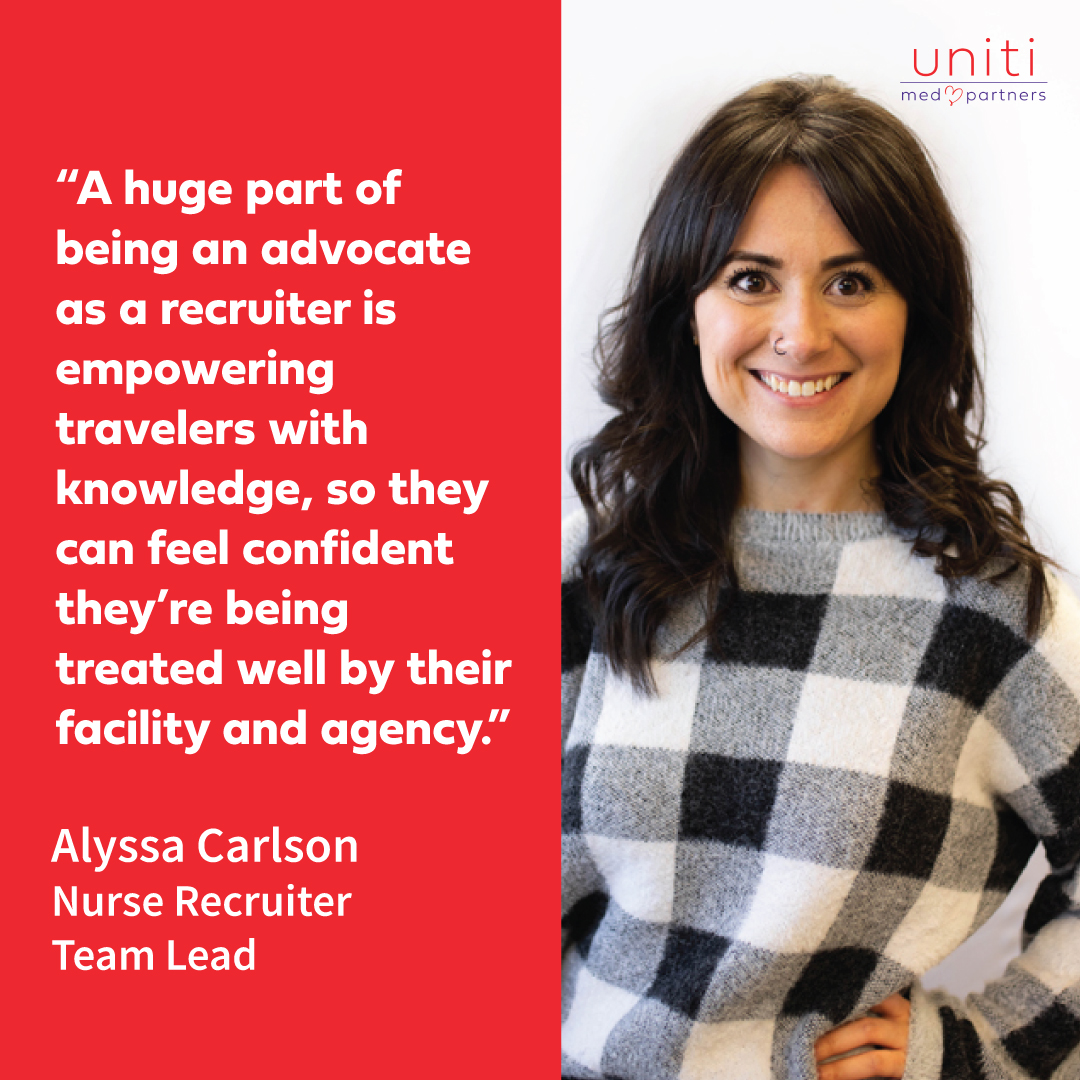 Nurse Recruiter – Team Lead
alyssa.carlson@unitimed.com
402-235-5071
Tell us about yourself.
I entered the staffing industry in 2021, and prior to that was a nurse for 8 years. I'm mom to a very intense, excited little girl named Luna. I have a sister who also works at Uniti in the Allied Division, and our dad lives in Las Cruces, NM. I love traveling, whether it's purely to get away or to visit my dad and stepmom. Much of my free time is currently spent playing Barbies or running pretend restaurants with Luna.
What do you love about your position?
I love getting to know travelers, finding out what motivates them, what their goals are, and hearing about their vision for their travel career.
What drives you at work?
Being a part of actualizing that vision is deeply fulfilling for me. Even if my role in their journey doesn't include a placement, helping travelers get closer to achieving their dreams fills my cup.
What makes Uniti Med a great destination for potential travelers?
​Personally, I love everyone I work with here at Uniti. Every person here leads with their heart, and genuinely want to help and support our travelers however they can. I have never met a group of people more supportive of each other, and that translates directly into our work with traveling healthcare workers. Traveling with Uniti, whether it's your first or 50th assignment, means you have a support system behind you every step of the way.
What differentiates you from other recruiters?
My goal as a recruiter at Uniti is to build a community of compassionate healthcare workers. I feel grateful for each opportunity to bring another individual into that community.
If you could travel anywhere, where would it be?
Sicily to lay in the sun and eat pasta for the rest of my days.
Favorite Quotes:
​"The only thing I do know is that we have to be kind. Please, be kind. Especially when we don't know what's going on." –Waymond Wang, Everything Everywhere All at Once
"I love my recruiter Alyssa, she is the best one I have ever had! She is super sweet and always reachable, always answers my questions promptly. I look forward to working with her in future assignments!" – Delia
"I am having a great experience working with Uniti Med. Alyssa Carlson is the best recruiter!" – Ben
"Alyssa is awesome and very caring. I haven't started my assignment yet, but Alyssa has been very patient and helpful with my decision to start my new journey in travel nursing. If I have any questions or need her help, she answers back quick and is very reliable. Glad to have her as a recruiter!" – JaLese
"Wish I could give her more than 5 stars. This lady is very compassionate, friendly, easy to talk to, and awesome. She is always there for me and encourages me all the way. She listens to me and tries to make things better or get help if needed. I enjoy working with her. Thank you for all of the support. Uniti Med is luck to have her!" – Sonia
"I am having a great experience working with Uniti Med. Alyssa Carlson is the best recruiter!" – Ben
"Alyssa is the best!" – Jessica
"Alyssa is a GEM! An absolute god send. I'm SO happy to be a part of her team!" – Herman
"Uniti Med was my first contract and experience with traveling. It's safe to say I don't see myself ever looking for other contracts outside of this company as a result of the best recruiter that I've had the pleasure to work with, Alyssa Carlson. Although I have no others to compare to, Alyssa has gone above and beyond to ensure I am supported and well informed with each assignment. I appreciate Alyssa's commitment to excellent communication and transparency. I am confident that she will always return my calls/texts or emails timely, and share honest information. Strongly suggest traveling with this company." – John
"I just want to send a shoutout to my AWESOME recruiter Alyssa Carlson!!! Boy, have we been on a journey since my start in February. I've worked with several agencies since starting my travel nurse journey a few years ago and I must say that Uniti Med has been the best thus far! With that being said, my recruiter brought to my attention that she has acquired a lot of Texas nurses and I just want to say that as a Texas nurse myself that we only want the best working for us and Uniti Med most definitely is one the best!" – Kiara