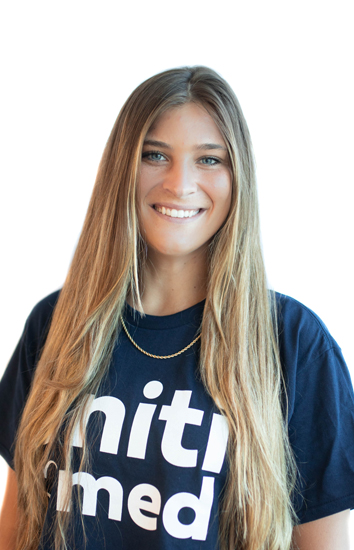 talia.guido@unitimed.com
402-242-6339
Tell us about yourself.
I am a very outgoing individual who some may say loves to dive into things headfirst. I come from a very large Italian family. I have 7 brothers and 1 sister, making me the second youngest of nine. I love spending time with my nieces, nephews, my boyfriend, and his two beautiful daughters.
What do you love about your position?
One thing that I love about my position is truly talking and getting to know my travelers. I believe that being recruiter goes deeper than just finding someone a job. Getting to know your travelers on a personal level is what makes my job fun, unpredictable, and rewarding. It's more than just finding someone a job, it can be life changing when you spark connections with people in this industry.
What drives you at work?
What drives me at work is knowing that at the end of the day, I am part of the reason that these people get to smile at the end of their day, and say that they're happy where they are. The whole purpose of my position is to place travelers where they are happy doing their job. And to me, there is nothing more rewarding than to hear people say " I love my job!"
What makes Uniti Med a great destination for potential travelers?
Uniti Med is truly the place to be. I have been in the industry, and something about this place just stands out not only to me, but the travelers as well. The level of care, and heart that goes into making sure that our travelers are happy and feel supported is what makes Uniti different than any other agency.
What differentiates you from other recruiters?
I believe something that makes me different from other recruiters is my ability to put myself in someone else's shoes. Understanding that everyone has a different story, or journey that got them where they are, is what creates that strong bond with my travelers. No two people are the same, and I like to maintain that perspective when finding the perfect job for my candidates and ensuring that they're happy at the end of the day.
If you could travel anywhere, where would it be?
I would love to go to Africa, or the Philippines at some point in my life!
Favorite Quotes:
Everything happens for a reason
Ride the Wave
You can lead the horse to the water, but you cant make it drink it.
3 Things On Your Bucket List:
Swim with Dolphins in the wild
Go on an African Safari
See the Seven Wonders of the world