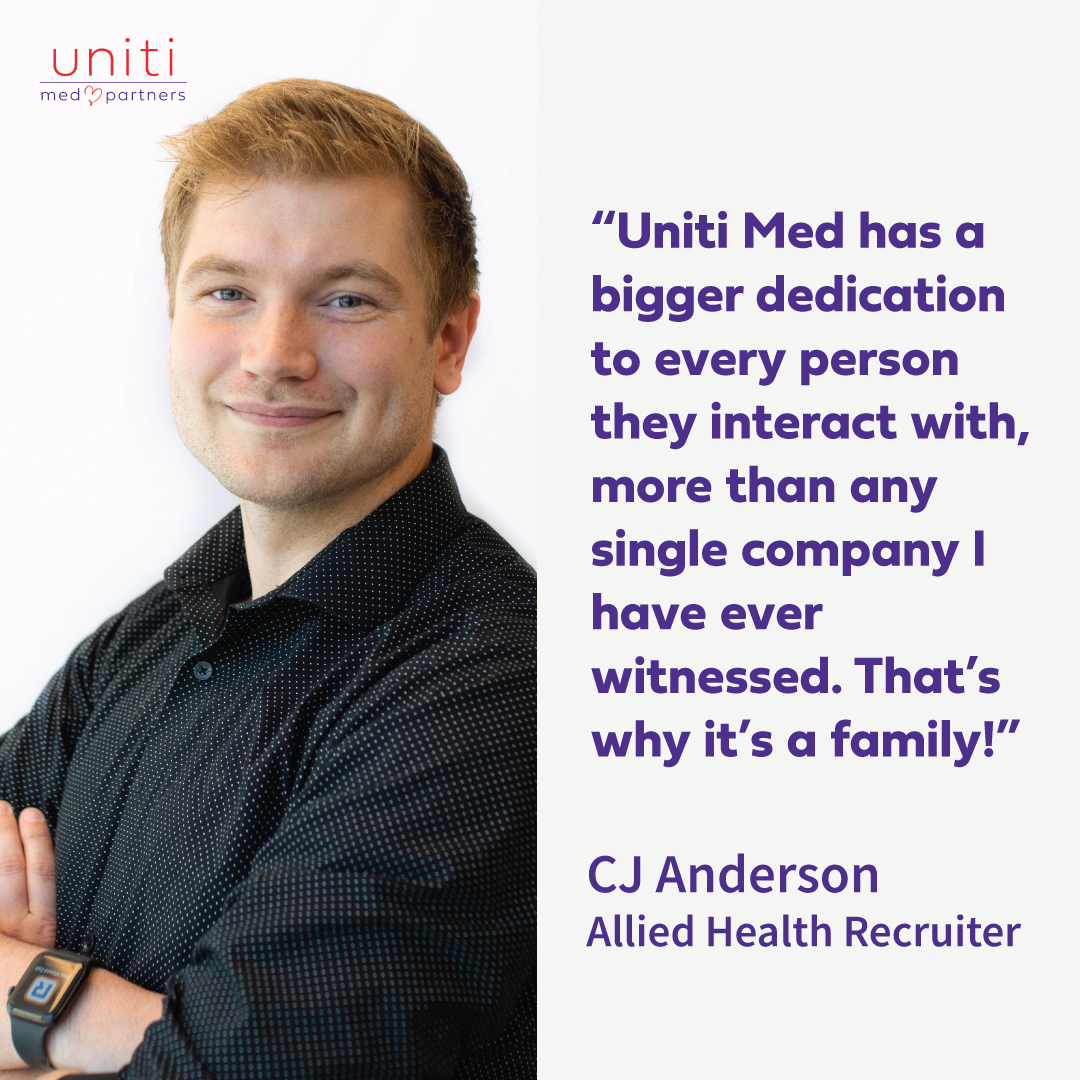 cj.anderson@unitimed.com
402-251-5063
Tell us about yourself.
I'm a dad, avid player of videogames, and lover of Indian food! I am also an avid listener to the D&D Podcast, Critical Role!
What do you love about your position?
My absolute biggest drive is to make anything possible for my son.
What drives you at work?
To help Allied professionals experience the same joy and life changing moments that I have with travel!
What makes Uniti Med a great destination for potential travelers?
Uniti Med has a bigger dedication to every person they interact with, more than any single company I have ever witnessed. That's why it's a family!
What differentiates you from other recruiters?
Every recruiter here will be the best experience you have ever had, I just hope to live up to the standard!
If you could travel anywhere, where would it be?
My lady and I's dream is to eventually move to New Zealand!
Favorite Quotes:
"The best way to find yourself is to lose yourself in the service of others."
"CJ has been an outstanding recruiter to me. He always keeps me updated, answers my questions and is always available when I need him! I cannot wait to take an assignment with him because I believe I will be in caring and professional hands! He does not push me to take assignments, he investigates all of the fine print, and makes me feel like we're partners in this together! I have talked to several different recruiters, and CJ hands down is the guy to have!" – Rachael
"I cannot express how highly I recommend Uniti Med and especially my recruiter CJ. CJ is a very personable recruiter who is outstanding at his job. For any first time travelers he makes the transition extremely smooth and manageable. He has a remarkably friendly demeanor and it is effortless to get along with him. Right away he makes you feel like you're a part of the Uniti Med team. Uniti Med isn't a big company where you are just another traveler. They truly care about you as a person and your traveling experience. CJ really makes that clear. If you need anything he's only a call or text away. He is significantly efficient at his job. I could not have asked for a better experience traveling. I would highly recommend him to anyone who is looking to travel. If you're even considering traveling, choose Uniti Med!" – Victoria