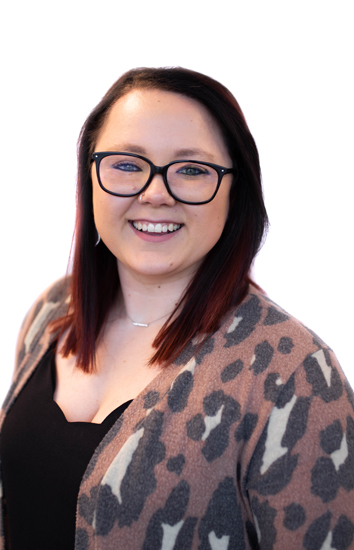 alexis.mcmartin@unitimed.com
402-251-5726 ext.159
Tell us about yourself.
I got married in October of 2021 to my best friend Erik. Erik and I both have a big family. Family is very important to us. When we aren't spending time with family and friends, we are planning our next adventure (as we like to call it). We love to travel it is very important for us to be able to travel and make many memories to share in the future.
I am a photography LOVER so every adventure that we do go on I take TONS and TONS of photos. 😊 I know the memories are always there, but PHOTOS LAST A LIFETIME. I ABSOLUTELY LOVE BASEBALL and FOOTBALL: GO CUBS GO ❤ KANSAS CITY CHIEFS FAN ❤ When those two teams are playing and there is a game on, I am focused, I cry, sweat, jump up and down and scream. When they say I am a die-hard fan I AM A DIE HARD FAN. I AM AN ADVENT COFFEE LOVER AND DRINKER. You will most likely never see me with out my coffee.. 😉 whoops. Love music and line dancing! During the summers my sisters, myself and our significant others go to Okoboji to my grandparents' house and spend the weekend there are on the water. 😊 Been doing this since I was probably in 6th grade.
What do you love about your position?
What I love about my position is that I get to help people make a difference. I know that everyone says that BUT it's the truth. I don't have the best of school smarts; so, I couldn't make it to become a respiratory therapist. My aunt passed away and she had Cystic Fibrosis and in order for me to be able to help people like her, I get to send travelers to these facilities, and they are going to make a difference.
What drives you at work?
Working hard and seeing how my hard work pays off for others. I want my team to succeed so when they are succeeding, I'm succeeding!
What makes Uniti Med a great destination for potential travelers?
Uniti Med is not like any other agency for travelers. Uniti Med is a family, and I am sure every agency will say that; but we are. The very first time you talk to your recruiter you just feel WELCOMED! You feel like you belong, and this is the place for you. We care and we want the absolute best for our travelers. We want you to be a part of our family and know that "no matter where you are, no matter what you are doing, WE ARE HERE FOR YOU, WE are a COMMUNITI."
If you could travel anywhere, where would it be?
If I could travel anywhere in the world it would have to be Australia to the Sydney Opera House. Sydney is absolutely beautiful and it would be a lifetime experience. Second place I have always wanted to go to Alaska. I absolutely HATE THE COLD; but my on my bucket list is to see the Northern Lights. They are beautiful and I love that nature is beautiful if you have the eye to see it.
Favorite Quotes:
"The future belongs to those who believe in the beauty of their dreams." – Eleanor Roosevelt
"In the end. It's not the years in your life that count. It's the life in your years." – Abraham Lincoln
"Toss your hair in a bun, drink some coffee, put on some gangsta rap and handle it." – Unknown
Favorite Color?
Teal, Mauve, taupe, black, and you gotta throw some glitter in there 😊